We received for review the piano curriculum MusIQ HomeSchool from Adventus. It's designed for ages 4-18+. The software requires a MIDI-compatible keyboard which you can purchase at nearly any big box retailer or through  Adventus themselves for a great bundle price.

I grew up surrounded by music.  My father is musical and some of my earliest childhood memories evoke images of him with his guitar or with his buddies jamming out at they say.  In school I adored music and so I began to play an instrument as soon as I was able.  The flute was my main instrument and I studied for years.  For a time I even dreamed of becoming a music teacher.  My own music teachers were some of my greatest influences in life.  I also had the pleasure of learning the piano and guitar.  I played the bells in church and I sang in any choir that would admit me.  Music was my whole world for most of my youth.
When my husband and I started to consider the homeschooling option music was the one and only thing that made me hesitate.  Most of my musical experiences came to be through my school experiences.  Yes I took private lessons and studied outside of school of course.  But it was the opportunities afforded to me at school that really kept my feet firmly planted in the musical world.  Private lessons are expensive.  EXPENSIVE!  20 years ago I think I paid over $30 for a thirty minute lesson once a week.  I'm sure the price is now only higher.  We have 3 children.  How would we afford that with a primarily one income family?  Sure I COULD teach them myself at least to a point.  But in my heart of hearts I just felt I wouldn't have enough time to do the job justice.  It is something I have fretted about for years.  And then along came the opportunity to review Adventus MusIQ HomeSchool.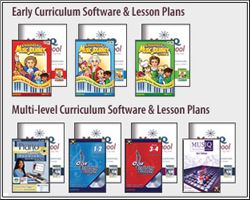 Adventus MusIQ HomeSchool is not the first homeschool musical curriculum that I have at least researched but it is, by far, the most comprehensive.  I struggle even as I type because I know the words I write in this blog post will not adequately explain just how much your children and even you can learn from this program.  Every member of your family can begin to learn to read music, music theory, rhythm, music history, and yes of course piano skills with this program.  Even the adults.  In fact, I decided to start playing again myself and Adventus has helped me dip my toes back into the musical water.
This program does require a Midi enabled keyboard that can be plugged into your computer during lesson time.  We were graciously given such a keyboard as a Christmas gift this year so we were all set to go before this review opportunity even became available.  We did have to purchase the cable though it was just a few dollars on Amazon.
I started both Noah(7) and Ezra(5)  Children's Music Journey level 1.  They have had almost no musical experiences so I figured the beginning is always the best.  What is so fabulous is each child can progress at their own pace.  Noah shot right up in level 2 while Ezra is steadily progressing and nearly through level 1.  Meanwhile, as an adult I dove right into the Piano Suite section.  It was a quick reminder of how rusty I really am, but oh did it feel good to get back up on that horse as they say. Children's Music Journey is recommended for ages 4-10. Piano Suite is recommended for ages 10+.
Generally speaking you would probably want to plan for about one lesson a week with a few days using the provided practice experiences in between.  If used 3 or 4 days a week you should only need about 20 minutes per session if that.  Ezra stuck to his one lesson a week but Noah was able to do two or three.  You can set the program to various modes and allow your children access to only to the lessons they are currently working on or everything the program has to offer at once.  The choice is yours. 

Children's Music Journey is a wonderful experience for young children.  It begins with simple game like experiences taught by a musical great of history's past such as Beethoven or Bach.  It leads the children to a knowledge of how the piano keyboard is laid out, and understanding of rhythm, a bit of ear training, and even how to read notes on the staff.  The program includes detailed activity sheets and even quizzes. Children learn to recognize the most famous classical musical compositions created by their "teacher." One of our favorite features of the program would be the Composer's Corner.  My boys were thrilled to create their own little tunes that were recorded and then played back over and over and over again.  The game room provides a fabulous system for practicing new skills.
Piano Suite is fantastic for the older learner or anyone who has experience in music.  The software is so detailed that it trains you to play with such precision that no human instructor could ever manage.  The collection of fun, recognizable songs to learn through makes the experience a true joy. Later in the program there is even an Ear Training Coach to help the student learn to sight read.
The entire program is so well thought out and comprehensive that I can't even begin to do it justice in this space.  The games, the activities, the tips and notes, the history.  Each lesson can take as little as 15 minutes but we often found that once we got going we just didn't want to stop and a few minutes turned into an hour before we even knew it.  We were learning and having so much glorious fun! The lesson plans are detailed and easy to follow including the activity sheets and other printables.
We just kept uncovering new fantastic features each time we sat down to enjoy the program.  There is so much to this program that I can only imagine what comparable private lessons would cost.  I think you would have to hire a piano teacher and a music theory tutor as well.  I estimate that you would have to spend several thousands of dollars for just one child to get a comparable music education with private instructors.
I received the MusIQ for Homeschool product from Adventus for review in the form of PDF downloads of the MusIQ lesson books.  I chose to download these to my Kindle Fire for easy reading.  I also received Children's Music Journey Vol. 1, 2 & 3; Ear Training Coach 1 & 2; Ear Training Coach 3 & 4; and Piano Suite Premier.
Now I'm sure you are wondering just how much Adventus is asking for this fabulous program.  You can purchase in multiple ways.  They offer an online homeschool subscription for $10.95 a month.  Here is what their website says is included with this subscription:
Access to all the MusIQ HomeSchool software for both the Early and Multi-Level Curricula. It does not include a MIDI keyboard or the Lesson Plans (available separately).
There is also a total and complete bundle that you can purchase.  Complete MusIQ Homeschool Bundle contains all of the programs, lesson plans and a MIDI keyboard – $489.95.
This is the complete package of seven years' worth of lessons. Where I live music lessons can easily run each child $30 to $50 per week.  This program can be used with multiple family members. It won't take long before this Complete MusIQ Homeschool Bundle begins to save you real cash.
Or if you would prefer Children's Music Journey (Levels 1, 2 or 3) can be purchased separately for $89.95 (including lesson plans) or can can get Piano Suite on its own (with lesson plans) for $109.95. If you want to see if MusicIQ HomeSchool is for your family, try the 7 day free trial.
Words cannot express how fabulous I think this program is.  It is a HUGE blessing for our family and fills what I viewed as a tremendous gap in our learning.  I cannot recommend this enough.