To read the other posts in this series click here.
When I'm introduced to new people and the chit chat about…"What do you do?" starts to flow there seems to be an inevitable direction the conversations flows.  (Well, unless they have a thing against Christians or Homeschoolers… but those are posts for another day).  When people hear that I homeschool my 3 children, run a household and a business plus a blog, and then our family ministries they all seem to get this vision of me in a superwoman cape.  They call me patient, and organized, and disciplined and all of these crazy things that I swear to you I really am not.  Perhaps I'm better than I once was… but I am by far a work in progress.
I do have a secret power.
God created each and every person with strengths and weaknesses.  Everyone has things they enjoy and are passionate about as well as things they'd be very happy to never have to think about.  Some areas of life come easier to while other things are just a pain in the rear to figure out.  Chances are, there are things you are great at or don't mind doing that your husband would rather never have to contend with and he too has gifts and talents that can bless the family and the children's learning in areas that perhaps you'd rather pretend didn't exist!

In our family my husband is my secret power.  I could never comprehend doing all that I do if he didn't play his part in our daily life.  He has great strengths that so cover my weaknesses and I too can cover his.  What two can do together pales in comparison to what one can do alone. 
His Roles
My husband is really good at getting up early.  The alarm goes off and he doesn't have much trouble pulling himself from his bed.  I am the TOTAL opposite!  It takes me a good 45 minutes to actually drag myself off of my pillow.  It's brutal!  As a result my husband has taken it upon himself to generally get the day going for our family.  As the children stumble down the stairs he greets them with warm smiles and a great breakfast.  It's his special time of day with our children before he begins his work day.  There isn't a day that I don't thank God for this gift in my husband.
My husband loves to cook!  He enjoys creating new dishes.  Our five year old shares in the passion with his Daddy.  Mommy on the other hand because a big ball of stress in the kitchen.  I enjoy eating for sure! But the cooking… HA! And cooking with my CHILDREN!  Good God please NO!  My husband cooks dinner most nights and THIS is just another place where my husband saves my sanity.
What about the schooling?  Truthfully that is almost all my own domain.  However!  Sometimes I just don't manage to get to a special craft or science experiment.  I'm too fried or we just had too much running around.  My husband sees this as an opportunity to get his hands dirty with our homeschool and will happily make the time to get that thing done.  It's yet another opportunity for HIM to engage with our children.
My Jobs
What about me? What do I do that husband would rather not?  Pretty much everything else!  I'm the researcher.  Anything our family needs to know or buy or create or whatever… it's my job to learn everything I can and fill him in.  I'm the maid! I keep just about everything clean and tidy.  He hates cleaning bathrooms and things like dusting.  So that's pretty much all mine.  I create the learning environment for our children.  I keep the social calendar moving.  I'm the one who organizes our lives so no balls are dropped.  That makes him happy.
How Do You Make This Happen In Your Home?
I know making your family function like this is easier said than done.  Somethings my husband does we always knew he would do.  When we were dating many moons ago it become pretty clear that I wasn't the cook and I wasn't interested in becoming one.  My husband has ALWAYS cooked for me and I can't describe how much I appreciate that.
Other things have evolved over time.  His waking up early each morning is routine that we fell into as the children grew.  It works for us.  Other things, like Daddy science projects, came about when we discovered a need and we communicated through it and negotiated until we figured out how to meet that need.
It Is About Service and Sacrifice
Countless times God tells us in His word that we are to serve one another just as Jesus came here to this earth to serve.
Mark 10:45

 

For even the Son of Man came not to be served but to serve, and to give his life as a ransom for many.

Galatians 5:13-14 For you were called to freedom, brothers. Only do not use your freedom as an opportunity for the flesh, but through love serve one another. For the whole law is fulfilled in one word: "You shall love your neighbor as yourself."
1 Peter 4:10-11 As each has received a gift, use it to serve one another, as good stewards of God's varied grace: whoever speaks, as one who speaks oracles of God; whoever serves, as one who serves by the strength that God supplies—in order that in everything God may be glorified through Jesus Christ. To him belong glory and dominion forever and ever. Amen.
This is a Biblical principal that my family takes seriously to heart.  It is a value we wish to pass along to our children.  My husband is my secret power as he uses his gifts and strengths to help me be the kind of wife and mother God has called me to be.  I pray that I am as much a blessing to him as he is to me.
To have a healthy homeschool marriage it will take sacrifice.  Everyone will have to use their gifts to serve one another.  It will take love, patience, understanding… and most of all… Grace.  But that last one is a post for another day!
How do you and your husband balance each other, serving and assisting the family with your God given gifts.  I'd love to hear more.  Drop a comment in the box or send me a message!
To read the other posts in this series click here.
Before you go… did you enter the Kindle Fire giveaway?  More info here.
 Are you enjoying or massive blog hop?  I am sure am!  There is just so much good homeschooling wisdom in the world.  It feels fantastic to know that I'm not in it alone and that some Momma out there has faced my same challenges.  I challenge you sit back and red some posts from some very fine homeschooling moms out there!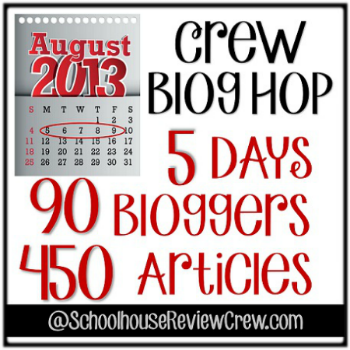 ;