Our family was recently given the opportunity to review a children's book called Diary of a Real Payne Book 1: True Story by Annie Tipton from Barbour Publishing.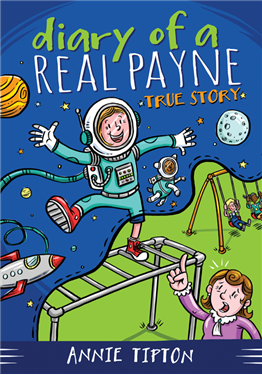 The moment this book entered the house my 5 year old Ezra scoffed it up and ran off with it.  I hollered in protest and asked him to save this one for a read aloud.  Then the moment I turned my back he snuck it away.  He had it read in about 2 evenings.  How exactly do I scolled a boy for reading?  I don't.  Instead I asked him tell the main character and his favorite parts of the book.  This is what he said….
The story is about a little girl named Emma Jean who was often called E.J.  According to my son, 10 year old E.J. loved to imagine things.  She  loved to imagine things like that she was in space or driving a race car.  All of E.J.'s imagining got her in trouble.  At school her imagining got her and her friend into hot water as it lead them to climb too high on the monkey bars and that resulted in an angry teacher.  Another time, while she was shopping, E.J's imagining antics had her racing around the store with a store cart.  Needless to say this lead to quite the angry Mom.
Author Annie Tipton has created fun loving characters with vivid and outrageous lives.  Mom has hair thick enough to hide things in and Dad has a pentient for making gifts out of nothing and entertaining everyone waiting in the checkout line.  From the dinosaur loving younger brother to the dog with many names, you family will delight in all of the good natured fun found in the pages of Diary of a Real Payne Book 1: True Story.
Each and every chapter brings you a new E.J. dream.  The language is fluid and vivid yet clean and simple.  You cheer for as she imagines herself to be flying around in helicopters… with the President no less, or as she plans her life as a dolphin trainer or an astronaut.
Throughout the pages you'll find delightful pages that capture the eye and add to the over all reading experience.  If you do manage to use this as a read aloud you'll find the pictures make nice stopping points to pause to chat about all that you've read.  I love to do that with my children.  Our discussions add nicely to our reading experience.
This book is simply fabulous.  A wonderful, clean, and fun read.  The book is written for your average 8-12 year old reader but what makes it fabulous is that it can be very appropriate for your advanced readers (like my Ezra) as well.  Or you can share as a family and laugh together as you read it aloud.
It is a 192-page glossy paperback, available from Barbour Publishing. It is currently on sale for $4.49, with a regular price of $5.99. You may order it here.