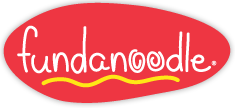 Recently I was given the opportunity to review workbooks from Fundanoodle. They have workbooks and learning activities for children ages 3-2nd grade. I was given 3 products from the orange line of products designed for children who are just entering the preschool age, 3+.  The books we were given included I Can Cut and I Can Do Math Level 1 and Max & Alphie's Adventure Level 1.
The instant I heard of these books I was intrigued.  In my life before my own children were born I was a special education preschool teacher in the public schools.  In my classroom I had children with a wide range of motor abilities.  I used to create lots of worksheets by hand that encouraged the children  to practice coloring, cutting, and drawing a variety of shapes and angles.  Of course I worked academic skills into the mix too.  Products like this weren't on the market.  If they were I would have bought them and saved myself a ton of time.  I had to see how good they were.
All of the books come spiral bound.  The pages are perforated and the back of the book is made of a solid cardboard.  This makes working directly out of the book super easy.  It is even possibly to lay on a carpeted floor and complete these activities.  Did you know having a child lay on their belly and draw or color builds core muscles?  These books are perfect for that.
We actually opted to tear the sheets out.  It's the only way I could keep my Joyanna from going wild on nearly every page the very moment my back was turned.  Setting one sheet in front of her at a time worked well.  This is where the perforation should have come in handy.  Unfortunately I found the pages incredibly difficult to tear along the perforated edge.  The spiral edge ripped just fine but that left us with a messy edge that didn't fit into her folder well.  To get the clean perforated edge I had to bend the paper along the perforation and the tear bits off at time.  It may seem nit picky but I found it frustrating.  You can even see the bits that were left out in the picture above.
Above you can see picture from the I Can Do Math Level 1 book, which costs costs $5.99 and contains 40 9×12 pages.  As you can see in this book as well as all of the others the pages are clean and uncluttered.  The illustrations are age appropriate and neat.  They are attractive to a child this age yet they leave lots of room for the child to creatively complete the projects. As you can see, my daughter likes to be rather colorful when she works.
At the bottom of each page is a little spot for children to add a sticker (which are included) celebrating their finished work.  My Joyanna LOVED this as would any 3 year old.  I found it to be a nice touch.  Most pages had a sticker that coordinated.  We enjoyed hunting down just the right choice.
Max & Alphie's Adventure Level 1 also costs just $5.99. Within the pages of this workbook (pictured above) you will find mazes, connect the dots, coloring, and hidden objects activities.  Joyanna very much enjoyed these and it gave us a great deal to chat about as she worked the pages.  The artwork is just as clean and simple as the Math book. Here you will also find included stickers to celebrate the finished pages.
I Can Cut is a workbook full of all sorts of fun wiggly zig zaggy creations for children to practice their scissors skills.  As you can see it comes with a set of scissors that worked fairly well.  This book will run you a bit more at a price of $7.99.
I found the quality of the books to be excellent and laughed at myself as they closely aligned with the pages I created back in my public school teaching days.  I'm glad these are available now.