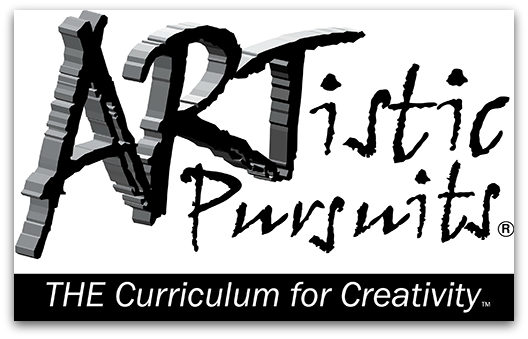 In my family we are passionate about art! I have always been drawn to all things creative and I feel it important to pass that love on to my children.  My oldest son Noah seems to be most interested.  We were thrilled with a recent opportunity to review
Early Elementary K-3, Book 3: Modern Painting and Sculpture 
by 
ARTistic Pursuits.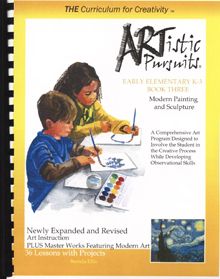 Book 3 is suited for children ages 5 and up in Kindergarten through 3rd grade. The curriculum book costs $47.95, all required supplies (paper, paints etc.) are extra.
What Is ARTistic Pursuits?
ARTistic Pursuits is a curriculum designed for teaching art at home and it is just perfect for homeschoolers.  It covers artistic techniques of all sorts as well as art history.
Early Elementary K-3, Book 3: Modern Painting and Sculpture contains 36 lessons and projects.  Covering just a lesson per week will give you an entire year's worth of art for your homeschool.  Each lesson is contains information about art history, famous artists, and a study of some well known paintings.  The lessons are brief which make them well suited for youngsters who are itching to get their hands on materials and not necessarily sit for a long lesson. They are designed for the parent/teacher to read the content aloud to the children.
Our book explained topics like Realism, Expressionism, Mondrian's Squares, and Abstract Art in simple and easy to understand language.  Artists hey discuss too include Monet, Renoir, Pissarro, Gauguin, Van Gogh, and O'Keefe.
How We Used ARTistic Pursuits
Our family stuck to the once a week schedule.  My Noah(8) was always thrilled with the opportunity to dig out his paints and materials.  Ezra(6) also enjoyed it a great deal! I do think he views his older brother as more creative and artistic than he is, so while he was enthusiastic he did express some frustration at times.
It may be easy to become intimidated by the very long list of art supplies you need to complete the curriculum.  However, not everything needs to be purchased all at once.  The first five lessons require only gouache paints, watercolor paper, and some brushes.  With a little forethought it'd be easy to buy what you need from a local art store as you needed it.
Each lesson and project is very clear and simple to teach.  You won't need to spend any time ahead of your school day preparing.  A simple skim of the text might be more than enough.
My children and I REALLY enjoy this curriculum.  They have learned a great deal, as have I, about artists and art techniques. Exploring with the materials is a real treat and a fun break from our usual pace of activities.
My Thoughts
Art is something that is so easy to leave off of your curriculum plans.  It can be that thing that you truly intend to do and even plan for but then let go in the chaos of a busy homeschool family life.  I know I've done it too many times to count.  With a curriculum like Artistic Pursuits on hand it is incredibly easy to just pull it from the shelf and get a lesson or two done on those rare days when things slow down… a rainy day, an unexpected cancelled activity, etc.  The program is well thought out and intuitive.  Great for young elementary school children and moms who don't feel creative or like they have the time to plan big projects.  You can't go wrong!