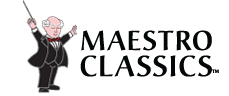 Several weeks ago while watching a horse show my son said something that caught me by surprise.  Classical music played over the loud speakers in between events.  My 8 year old son looked up at me and said…"Mommy I like this music, how we we never play it at home?"  I happen to LOVE classical music.  I played many instruments in high school and performed in several orchestras.  I have no idea why I haven't shared that love with my children.  When the opportunity to review
My Name is Handel: The Story of Water Music
and 
Mike Mulligan and His Steam
Shovel
by 
Maestro Classics.

Maestro Classics audio CDs bring to families performances of symphony music but that's not all.  Also included are narrations from classic children's stories or musical history information about the authors of the books or famous composers.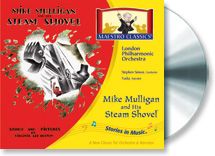 Mike Mulligan and His Steam Shovel
is a story that is absolutely beloved by my children.
We've been reading this classic children's book since they were tiny babies who preferred eating pages to turning them.  I was thrilled to discover a new way to experience such a treasure of a book like this.
This story was written in 1939 and is all about Mike Mulligan and his steam shovel named Mary Anne. It is a story full of history as we learn all about how technology has advanced in such a way that has left poor Mike Mulligan and his trusted Mary Anne without work.  That is until they read an ad in the paper about a new basement to be dug for a new town hall.
With Maestro Classics the story comes alive in a new way as  The London Philharmonic Orchestra brings even more drama, suspense and detail to the story all through the use of their beautiful music played while a talented story teller narrates the story.  Once you hear the story read and played once Director Stephen Simon gives a fantastic explanation of the instruments we just heard, how and why he chose them for each section, and what role they play in enhancing the telling the story.  We even learn about how he achieved some of the more uncommon sounds we heard, such as the sound of steam, with the use of a scuba tank.  Part of his explanation also includes information about how he compiled the music that makes up the final composition.  After this we are treated to another listening of the story with music, this time with new ears as we are encouraged to listen for some of the things Director Simon just told us all about.
This audio CD is meant for children ages 4 and up and families and requires 51 minutes to listen through in its entirety.  Director Simon does an exquisite job of teaching all about the instruments and the composition.  He does it in such a simple way that even the youngest children can learn and follow along, yet at the same time I myself as an adult was totally thrilled and mesmorized by his every word.  I've lost count of the number of times we have listened to this CD in the last several weeks.
My Name is Handel: The Story of Water Music
is entirely different.  This audio CD does not focus on any children's storybook but rather it tells the tale of the life of German composer George Frideric Handel.  It is a history lesson set to the famous composer's very own music. We are given a bit of biography of Handel's life with an emphasis on the variety of positions he held as a composer throughout England.  We hear the tale of how Handel's famous 
Water Music
 came to be.  The narrator tells the story with such enthusiasm my children and I were glued to the CD player as we truly didn't want to miss a word.
This CD comes with a 24 page activity booklet with information about the history of the harpsichord, more information about Handel's life, puzzles and a other fun tidbits.  It adds a nice touch of interaction to the experience of this wonderful audio lesson.  This CD is intended for children ages five and up and families  and requires about 49 minutes to listen in its entirety.  My children adored it and we have listened several times over.  Just like Mike Mulligan, we found it to be easy to follow yet engaging for any age.  Most of all, an exciting and fun way to learn!
We chose to listen to both of these audio CD's while traveling to activities in our van.  It isn't uncommon for us to drive an hour or more to a fun field trip or other activity.  Maestro Classics helps us pass the time with joy and learning.  My son has enthusiastically thanked me for finding some classical music for him.  I plan to purchase the rest of the Maestro Classics CD's.  I'm sure this is just the beginning of a study of classical music for my family.
Mike Mulligan and His Steam Shovel and My Name is Handel: The Story of Water Music are available for $16.98 each for the CD, or $9.98 for the MP3 download. Maestro Classics can be found on Facebook and on Pinterest.