I was recently given the book
A Life in Balance
by 
Learning Breakthrough Program
for review. The 
Learning Breakthrough Program
is used to impact auditory, visual, motor, tactile, balance, body positioning and neurofeedback systems in order to strengthen neurotransmission and calibrate brain functions.
If you are interested in ADHD alternative treatment, dyslexia treatment, reading improvement, brain fitness, or brain Training than this is a book for you. It is a system that is proven to help learning disabilities such as Dyspraxia (Coordination), Dysgraphia (Handwriting), Dyscalculia (Math), CAPD (Auditory Processing), Speech & Language, Autism Spectrum Disorders, Aspergers Syndrome, Behavior, Sensory Processing Disorder, and Brain Injury & Stroke.  They describe the program as aerobics or even weightlifting for your brain.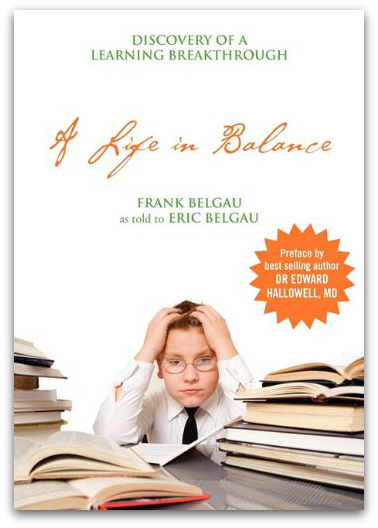 A Life in Balance
 is the story of the founder of 
Learning Breakthrough Program
, Frank Belgau as told to his son, Eric Belgau.  This book is geared toward adults and follows the elder Belgau as he journeys through life as a student, then his time in the US Air Force.  He was also a teacher and learned a great deal about special needs students which lead to the creation of his program that helps students who seem like hopeless cases become successful.
The story of how Frank Belgau came up with his program is truly fascinating.  It is what kept drawing me further into the book.  Back in my days as a special education school teacher I often anecdotally witnessed evidence of a link between movement and even diet and the way the brain functions.  I often used certain movement games or activities to help my students tune-in, focus, or otherwise find success.  My methods were rather half hazard.  I had a bag of tricks I could use with kids of a certain type or disability.  Some worked and some didn't depending on the child.  But when they worked they really truly did help. I wish I had access to Frank Belgau's information back at that time.
This book is mostly about the journey to creating the program.  It is an biography autobiography. And it truly is a fascinating one.  Frank Belgau drew from his own experiences as a struggling student by in the 1940's.  He lacked coordination and was often taunted by bully's.  He was blessed by gifted teachers who drew him in and encouraged his fascination with learning. He turned that fascination into time as a mechanic in the US Air Force and eventually a passion for teaching, especially those children who seemed to need something else to be successful.
His passion for helping students who needed more help began when he was teaching in the 1960's.  It was a time when not much was done for children with challenges.  As a favor to another teacher, Frank Belgau offered to take her class to give her something of break.  Without much to do the children became rather destructive.  Frank Belgau began giving them little projects and such to keep them busy.  The children, who had otherwise been pretty much written off, often succeeded.  As Frank Belgau raised his expectations the children rose to meet them.  Frank Belgau drew on his experiences as a child who benefited from the extra care and attention from just one or two teachers who really believed in him.  Frank Belgau began to see that the problem wasn't really the students, it was the system.  Frank Belgau then spent the next couple of decades dedicated to making changes in the systems that held certain children back.
This book really shows us Frank Belgau's heart for these special children and the journey he traveled not only to create a program to help them, but to shift the system into one willing to help them.  It really is his story.  Near the end they do give you some exercises and tidbits so that you can give a sampling of the program methods a try with your own children. The heart of the book though isn't to get you to buy into the program.  The heart of the book is to tell you all about a man whose life's work was helping children.  It is a wonderful story.
You can purchase a copy of A Life in Balance for $16.95.  It'll be worth your time.
You can follow Learning Breakthrough Program on Social Media too!
Facebook: https://www.facebook.com/LearningBreakthrough
Twitter: https://twitter.com/LearningBreak
YouTube: https://www.youtube.com/user/LearningBreakthrough