Our family was recently given the opportunity to review
Veritas Press Self-Paced History: Middle Ages, Renaissance and Reformation
plus the
Middle Ages, Ren & Ref Flashcards
all by
Veritas Press
.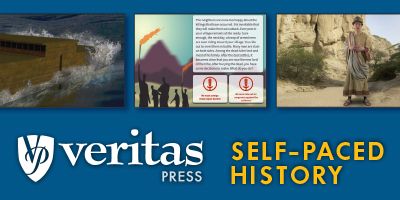 This program is absolutely amazing.  I know I am going to struggle in this review to find adequate words to really give you the depth of this program. This program is geared toward 2nd-6th graders.  I set this up for my 8 year old Noah work through and it fit him just fine. It holds 160 lessons which should make it suitable for an entire school year.  The lessons are based on the Classical Christian Model for learning.  It is self-paced so children start at any time and move ahead as the family sees fit.
Noah worked through the program each and every day, and sometimes twice a day, and I think he occasionally dug into on the weekends as well.  That is just how much he enjoys it. For a busy mother there was absolutely nothing for me to do beyond log-in myself once in a while and check out his progress and view the results on some of his quizzes.  Once I set him up with his log-in, which was simple to do, he was off and running.  There was nothing required of me which is such a weight lifted.  Yet all along he has learned more than I could have dreamed.
Each lesson is presented to the student through a series of "slides."  I put slides in quotes there because I think of slides as being still photos.  This is not.  I'd really prefer to call them a series of short video clips.  The lessons are presented to you through the conversations of two people dressed as monks.  It is rather relaxed and conversational in nature.  Storylike would be a good word to describe it.  The two can be a bit silly and there were certainly some laugh-out-loud moments for my son.  This definitely kept his attention.  In fact, it often drew the attention of my 6 year old and my 4 year old.  They loved to crowd around the computer and check out what was going on as well.  And yes, the learned too, how could they not?
In between the slides, or video clips, there were interactive elements as well such as  spelling quizzes, matching games, identifying locations on maps, word searches etc.  The other night at dinner we were discussing the World Cup.  My husband mentioned Algeria was a country that participated.  My son was able to tell us exactly where in the world Algeria is as it was discussed in his Veritas press lessons.  
Every lesson concludes with a review game.  These are video game in style with things like a soccer type game that reminds this old school Mommy of "pong."  There was a viking dragon boat game, a quest game where you are looking for a key in a monastery etc…. These and the final quizzes are fun, creative, and engaging.
My son's absolutely favorite part of this program is the song.  Music helps us remember and Veritas Press uses a very catchy tune to solidify names, dates, and details into your brain.  Personally, it drives me a bit batty.  But it works! Trust me! I've memorized all of the info with this song too!
 The 
Middle Ages, Ren & Ref Flashcards
are a fantastic tool.  They come as large cards printed on sturdy and shiny cardstock.  One side features colorful artwork and a name and/or date.  The other side has all of the details about the subject.  I let my son use them as he saw fit.  He usually had them on hand throughout the lessons.  He'd line them up according to time.  He would look them over as he took quizzes.  They were very handy.
Final Thoughts
We like this!  We like this a lot!  I love how much church history is presented.  It is just so relevant to the time period that I don't understand how it can be taught without the religious history.  It is refreshing to have a program that does not try to gloss over that or wash it away some how.  I like how thorough it is.  I like how engaging it is.  I like how much fun my son has doing it.  I like how I don't have to do a darn thing yet he is truly and deeply learning (as am I).
Price:
This program will set you back $199.  I don't normally say too much in my reviews about price.  What might be way over priced to one family might be just the answer to prayer for another.  We all have different budgets.  Normally I wouldn't consider a program at this price meant for just one child that I couldn't reuse with a younger child later on.  However, I want to say that this program is so rich in learning, content, and fun… it really just might be the thing even at this price point.  Yes, we like it that much. I am seriously considering other self-paced courses for other years.