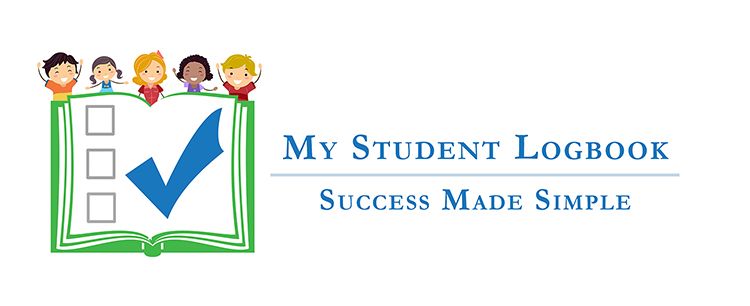 Do you have children who THRIVE on checklists like mine do!? My Ezra is a total checklist kind of kid.  If I've made him a checklist I can guarantee you everything I've asked him to do will be done and likely without any fuss.  His older brother Noah is a bit more laid back but it certainly helps him too. So when the opportunity to review 
My Student Logbook
came up I knew I had to have it. 
My Student Logbook
is a fun little business put together by a great homeschool family.  These books are essentially customizable
record keeping books
in the form of checklists that can help you and your homeschool family keep everyone on track for the day.
They come in many choices including dated chronological year, dated school year, or undated blank.  We went for undated.  I LOVE to customize things to fit our needs and I just knew undated pages would be a good fit for our family. Undated pages gave me the option to start using these books whenever I wanted to.  With a new baby in the house I keep everything flexible.
One of the first things that grabbed my eye about these logbooks was the attractive cover art.  They come in a variety of choices so your child is likely to find something that represents their interests.   Initially I chose the cover with horses for my horse loving son. I have since been told by the company that this cover has gone out of print and they are looking to replace it.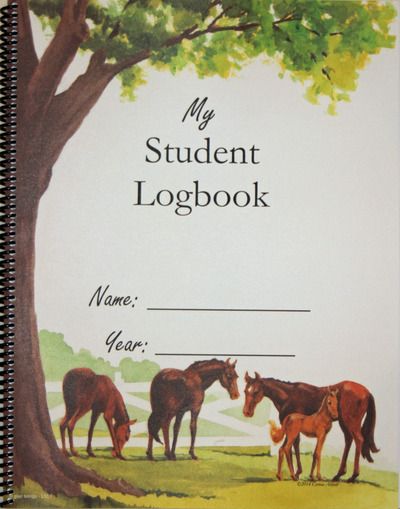 Once I got this logbook in my hands I loved it so much I decided to pay for a second one myself. My other son chose the dinosaur design.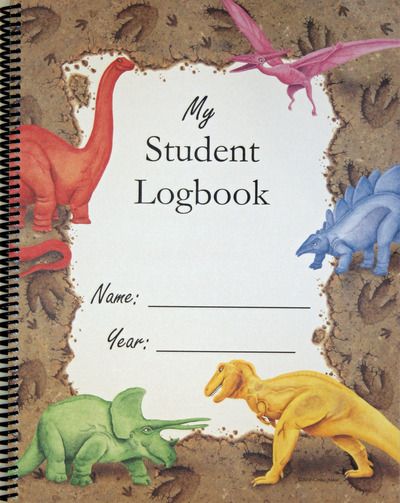 I mentioned before how my children really THRIVE on checklists.  You'd think making up checklists would be a rather simple task for a mom to do right?  Wrong! I have failed at consistency in this area and as a result I have frustrated my children.  The thing about checklists is they need are consumable… children check things off and then need a new copy.  And they change!  What we need to be doing regularly today may need to change in few weeks for whatever reason.  Perhaps a younger child has grown up enough to take on a chore an older child usually does.  Maybe a new session of co-op classes has started.  You might even actually FINISH a curriculum! All of these things can upset the perfectly made checklist.
With these books you can create one checklist that the children can reuse for 1 week, several weeks, months, the whole year if you want them to! No reason to recreate the wheel (as I say) day after day.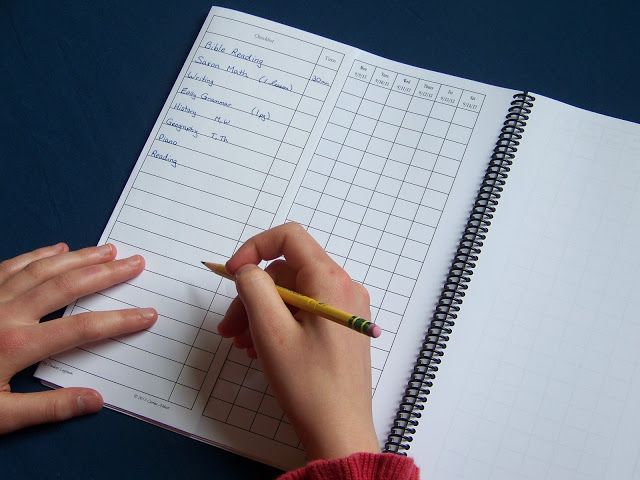 However! And here is the cool part… If and when life changes and you need to change up that check list…. you CAN!  It is truly the best of both worlds.  After the book is full and used up you have a complete record of all of the tasks for the whole year.
You've got to click on this video as it really details just how these books work and what you'll need to do to set it up!

In our home we used the books to help remind us of chores and school work.  If it was on the list it was pretty much guaranteed to be done. Once I set the books up everything ran on autopilot and required little thought or input from me.  A simple… where are you on your checklist for today get the wheels in gear.  It literally ended arguing, negotiating, and even most whining.  Can you hear me singing Hallelujah over here!  We were even able to put these to work on non-school days.  I just told the children to skip the schoolwork.
There are other fun and useful pages toward the back of the book too! There is an All About Me Page, and prayers and go page, a page to record memorized Bible verses, a page to record the books the child has read, a page for events, projects, field trips, and presentations, a page to record activities too.
My Student Logbook can be purchased for $15.00 plus $5.00 shipping.  There are PDF versions available.  A single copy license is $10 and a family license is $20.
These books can be used with any child through adult who can read.  If you wanted to be extra creative you could draw pictures or print out little clipart representations of what a child is to do to help the non-reader use the book as well.  The possibilities are limitless. 


My Student Logbook on Social Media: 
Facebook 
 and 
Youtube