I think the number one question I hear from homeschool moms in my homeschooling circles is… "What do you use for grammar?"  I think solid, yet enjoyable grammar programs are difficult to find.  My family certainly didn't have one. We were piecing together bits and pieces from here, there, and everywhere.  When I had the chance to review 
Fix It! Grammar: The Nose Tree [Book 1] (Teacher Manual)
and 
Fix It! Grammar: The Nose Tree [Book 1] (Student Book)
by 
Institute for Excellence in Writing (IEW)
I was pretty excited! We already use IEW's writing programs and they have done such great things in our homeschool.  I was hopeful the grammar program would as well.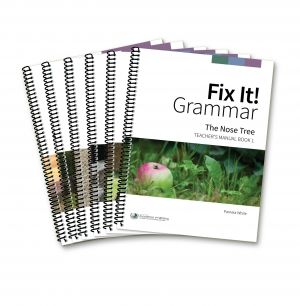 Fix It Grammar is a six book series.  Each book is intended to provide a whole years of grammar instruction spread over 33 weeks.  You'll find daily passages to review and over 100 vocabulary words to discover.  The program takes advantage of repetition to really solidify grammar rules through editing practice.  For each level you'll find a teacher's manual and a student book.
How Does It Work?
The glory of this program is just how simple it is.  It takes as little as 15 minutes per day.  That's it!  My children always marveled when we finished a lesson.  They seemed to not believe me when I explained that this was all we had to do in grammar today.  At each lesson you'll open your teacher's manual and the students will open their student book to the appropriate week and day. You'll read one sentence and seek out any errors such as missing end marks.   You'll spend a moment reviewing any concepts that your child might need a reminder for (example: What was a noun again?) and then you'll search out that concept and mark in in the sentence.  Finally you'll take the provided vocabulary word and find it's definition in a dictionary and summarize it in writing.
That is it!  Done!  One sentence, one definition, and life moves on.  Isn't that glorious? Every sentence builds on the sentence before it.  By the end of the year you'll have edited a complete story as well as studied all of the vocabulary words associated with it while learning grammar concepts and practicing handwriting.
The teacher's manual is excellent and thorough and a must have.  It contains everything you need to get through the program including a code that will get you a PDF version of the student book that you can use with all of your children.  The student book is spiral bound and absolutely handy if you are like me and would prefer to not have to mess with printing things out.  There is such a great ease in asking children to just turn ahead to the next sentence without any fuss.
What We Thought Of Fix It Grammar!
We loved it!  Absolutely positively we adore this program and it will become a permanent staple in our curriculum lineup.  My children have NEVER asked to do grammar lessons before.  They were actually disappointed when a lesson ended and begged to do another sentence.
The whole experience is so fast and low key, no pressure!  But just as important, they LEARNED!  Just for fun when we'd cuddle up to read aloud picture books (we love picture books, we pretend they are just for my preschooler but we all know ALL of children adore them and get so much from them) my boys would say.. "Hey, I see 3 nouns in this sentence!"  Or after writing something for another subject they'd stop themselves and remember endmarks… get this… ALL ON THEIR OWN!
This program is just such a no brainer.  It takes little effort from me as the teacher to teach a lesson.  There is no preparation needed.  No one needs to jump through hoops! I don't have to drag out 100 different manipulatives.  Oh! I almost forgot, there are flash cards in the student book that you can cut out help remember the grammar rules. They are printed on sturdy cardstock. I keep these handy and we flip through them at the start of lesson for refreshment.  The children love it!  I love it!  We are learning rules and parts of speech and we are applying them.  They are learning!  How much better does it get?
Purchase Price?
Fix It! Grammar: The Nose Tree [Book 1] (Teacher Manual) $19.00
Fix It! Grammar: The Nose Tree [Book 1] (Student Book) $15.o0


You can find IEW on social media in the following places:
Facebook: 
https://www.facebook.com/excellenceinwriting
Twitter: 
https://twitter.com/iew
Pinterest: 
http://www.pinterest.com/iewriting
Google+: 
https://plus.google.com/+Iewriting/posts
You Tube: 
https://www.youtube.com/user/iewtv
Vimeo: 
http://vimeo.com/iewtv