As a reviewer for the TOS Review crew I regularly get access to review homeschool products I've never heard of before. Often times these products are gems and our family is blessed to get to use them.  When  Standard Deviants Accelerate popped up I was quite intrigued. What a name!  Standard Deviants Accelerate has Homeschool Courses on a tremendous variety of topics! Nutrition, Chemistry, Arithmetic, English Composition… you name it.  Some of these are even A.P. level for the highschoolers.
Some of the courses are geared for the younger grades such as arithmetic for 3rd graders however most of the content is appropriate for the high school set. Our family used arithmetic with my Noah who is 8.
We received a full annual subscription to all of their courses, which includes:
Arithmetic – Grades 3+
Fundamental Math – Grades 4+
Earth Science – Grades 6+
Nutrition – Grades 6+
Algebra – Grades 7+
Biology – Grades 7+
Chemistry – Grades 9+
English Comp. – Grades 9+
U.S. History – Grades 9+
AP Biolody – Grades 11+
AP Chemistry – Grades 11+
AP U.S. Government & Politics – Grades 11+
AP U.S. History – Grades 11+
AP Eng. Composition – Grades 11+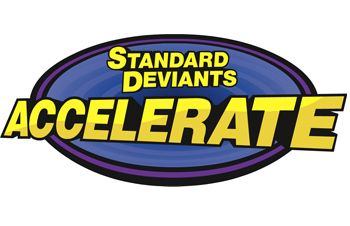 Standard Deviants Accelerate
is a company that creates teaching videos where complicated or difficult subjects are broken down into easily understood parts and pieces.
How We Used the Program
The arithmetic course covers a wide variety of topics including whole numbers and the number line, addition and subtraction, multiplying whole numbers and word problems, dividing whole numbers, decimals, fractions, lines, shapes, and sizes, measurements, and patterns and graphs.
Under each lesson you'll find 2 or 3 videos.  Every lesson follows the same format.
The videos tend to be 10- 15 minutes in length.  They are a mix of graphics or visuals and a teacher voice speaking directly to the student. There is a transcript that you can print off for future reference as well.
Vocab
There is a vocabulary section.  All of the important words from the lesson are defined.  Children can click on the word to hear it read.
Diagram
Here is where all of the work is done.  The children interact with the problems by clicking and dragging things around the screen.
Quiz
I love how the quizzes are automatically graded for you.  One less thing for Mom to do! Instant feedback is an awesome teaching tool as well.
Written Answer
This page didn't make much sense to my kiddo.  It is so broad.  I myself didn't really understand what they were going for.  I think this part could be improved with perhaps word problems or questions children have to solve by hand.  We mostly skipped this page.
Overall
Most days we completed one lesson.  Some days if we were on a roll we did more.  Noah took to it well.  He understood and followed along.  He was able to work through it completely on his own.
The videos are excellent.  Very clear, very straight forward, not too long yet not too short.  The layout of the program is simple and clean.  My kiddo had no issues navigating around the site right from the beginning.  The expectations were completely clear.  He was able to complete lessons indepently.  There was no prep work involved for me.  With three other children, including a newborn in the house, all of that was such a blessing for me.
This program is an excellent supplement.  It took concepts my son already knows or  introduced new ones in fresh ways solidifying his understanding.  The program does not have a lot of practice problems.  Additional practice problems would certainly add value to the experience.
There are definitely some areas where this program can be improved.  Each day we needed to write down where my son left off in his lessons.  There is no indication as to what has been covered or what lesson is up next.  Some things in the parent dashboard were not intrinsic.
While we certainly enjoyed the arithmetic portion this program would certainly be best suited for older children who can get the most out of all of the courses offered.
How to Buy
Courses such as the aritmetic course I reviewed can be purchased for use by one student for $99 for the year or $24.95 a month.  AP courses are available for one student $14.95 per month. You can purchase HERE. 
Right now there is a free six-month trial!  Definitely worth it.