Christmas is coming! So too are opportunities to really honor Jesus and reflect on what the world would be like if He had never come to this earth as a man to show us how to live and take our punishment for our sins.
Our family had the opportunity to review a book called If He Had Not Come which was put together by David Nicholson.  David Nicholson originally heard this story, which was originally written by Nan F. Weeks in 1938, during Sunday School at church.  David was so taken by it he decided he would share the story with his own children every Christmas. Now a grandfather he is bringing the story to life in a new book.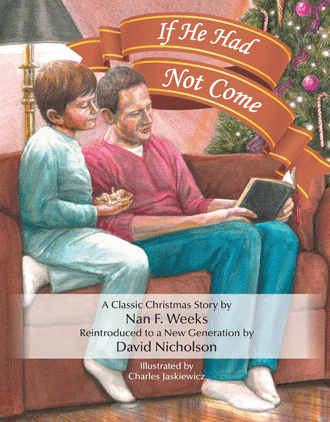 This came to me as a large hardcover book full of glorious illustrations that highlight the story well.   The hardcover edition of this book retails for $18.95.  As soon as I laid eyes on it I knew this would make a great addition to our Christmas traditions and the holiday books we hold dear.  I instantly shared this book with my children ages 4, 7, and 9.  Right from the start they sat riveted, totally engrossed, and eager to listen and view the pages. The book is written for children ages 6 and up.
The story is set through the eyes of one little boy named Bobby who spends his Christmas Eve with his parents reading about Christ in the Bible.  As he is getting ready for bed Bobby's heart is filled with anticipation as he admires his family's Christmas tree and traditional decorations.  Christmas morning and presents are on their way.  As he heads off to dreamland Jesus's words from the Bible ring in his head… "If I had not come…"
Bobby wakes up to a world without Jesus.  There are no presents and the Christmas decorations are gone.  Bobby heads out of the house to find out just what is going on.  He asks person after person about Christmas and none seem to know what on earth the boy is talking about.  Stranger still other things have disappeared as well.  There are no churches, hospitals, homeless shelters, or anyone who cares enough to help Bobby care for a sickly man he encounters.  It is a sad, depressing, and harsh world.  Just as it seems things are going to get truly ugly Bobby awakens at home in his bed to the sound of his mother calling his name.  It is Christmas morning just as Bobby had anticipated.  It was all a terrible dream.
After we read the story we of course had to look up the full verse  of John 15:22, which said,
If I had not come and spoken unto them, they had not had sin: but now they have no cloak for their sin.
Here Jesus is explaining to his disciples that the world hates Him and will hate His followers too.  But since Jesus did come there would be no excuse for sin.
At the end of the book there are pages of interactive topics for families, lots of information to help you dig deeper and investigate many scripture passages, and most importantly the Gospel Message is clearly spelled out.  Such a wealth of great things that make this so much more than just a nice Christmas story.  It is an opportunity to really bring the family closer to Christ and even share His message with someone who might be joining you for the holidays.
This truly is a fantastic book.