My family was recently given the chance to review a film called IndoctriNation: Christianity and the Decline of Public Schools in America by Great Commission Films.  This film is meant for adults and though there isn't anything at all inappropriate it probably wouldn't interest children. I have to admit I was a little hesitant about this film.  I was once a public school teacher. I was given the opportunity to serve in multiple school districts.  Some of those were excellent and some of those were not. Some were in the suburbs and some were a part of the inner-city.  
Notice I said I served as a teacher.  Though I choose to homeschool my children because I believe it is the best educational, social, and spiritual environment for them I firmly believe almost all teachers, administrators, and support staff in public schools are servants who are there because they want to make a difference.  They want to be great at what they do.  They want children to learn and grow.  Yes there are bad apples.  No doubt about it there are inept teachers and those who are just coasting to capture a paycheck.  But by and large my experience as a teacher taught me that these are the exception not the norm and teachers and others who work in our schools deserve a high level of respect and support.
All of that to say I was hesitant to view this film because though I do not like how Christian values are rejected and even combated in our schools I didn't want to watch a film that tore down the hard work that so many worriers (yes teachers are worries) battle to do each day.  After some prayer I decided that if the film really was ugly then I should review it so that I could shed some light on that.  If it was great well then I didn't want to miss it. So review it I did.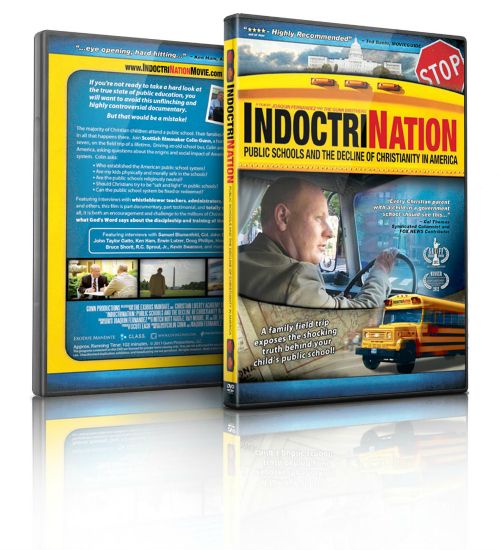 This 1 hour and 46 minute documentary takes a look at the history of public schools.  It dives into the major players throughout history who shaped it and what impact they have had on what we see in schools today. This film asks us to consider the impact American schools have on life today. It was created by homeschooling father Colin Gunn who travels with his family across the country in a school bus on a search to understand public school education.  He sets out to learn how schools got started and what happened to cause them to evolve into what they are today.  Gunn is a father of seven children and a native to Scotland though he now resides in Texas.  He tells a story in his Scottish accent with passion and grace as he travels, interviews experts, parents, students, theologians, and teachers, including Christian teachers.
I watched this video twice myself and once with my husband.  After my first viewing I was pretty fired up and I more or less demanded he watch it too.  He was happy to oblige.  There are certainly hard-hitting sections that gave me pause to rethink my ideas on American Schools.
An early quote in the movie that stood out to me was from Voddie Bachman Jr. He is a preacher I'm already familiar with. I've heard him speak at a homeschool conferences and I've read a few of his books.
 "I don't think that there is anything else that 90 % of Christians do, together. Fight to the death over which bible you're going to use. Which denomination you're going to be a part of,  duke it out there too, but 90% make the exact same educational choice, and nobody can point to book, chapter and verse to justify it. "
Wow!  He's right!  Though homeschooling seems to be growing by leaps and bounds all around me we are one of only a few of families in our church that homeschools.  At one point there was just two.  It was rather discouraging for a time.  I've heard the argument too… our Christian children should be the salt and light in the schools spreading the message of Jesus to other children.  I've never liked that argument.  In the documentary we see clips of other preachers or important men speaking at church conferences some arguing for public schooling using the very argument I just mentioned and others, like Voddie Bachman, arguing against it.  Those arguing against it do seem to have a stronger argument.
Colin Gunn visits a teacher's convention and interviews, briefly, a few Christian teachers asking them how their faith impacts their teaching.  Each of them said the same thing.  They are not allowed to discuss their faith.  They try to share the love of Jesus through their actions and behaviors but that is all that is allowed.  Of course I know this.  I was that Christian teacher.  I was the one who had to actually leave my faith at the door every day and try to be a shining light without ever opening praying or mentioning His name.  I couldn't marvel with my children during a science lesson at God's creation. At the time I thought me just being there was enough.  That I could be salty and bright without actually speaking of Jesus.  I was just like these teachers.
I do remember one time I had a student with two moms.  I had another student whose parents were raising him with strong Christian values and they disagreed with a family setup that involved two mothers.  My Christian child mentioned that and I had to tell him that all families are different.  In that moment I fear I undermined his own parent's beliefs.  I had another child who was in the habit of praying before every snack or meal.  I had an administrator who questioned whether it was appropriate and asked me to end it.  I refused.
Colin does interview one Christian teacher and one Christian principal in depth.  He sits in the classroom or office with them and really digs into they hows and whys of what they do and how their faith impacts their career.  Each them wholeheartedly admit they cannot speak Jesus's name anywhere at any time.  When Colin asks the teacher what would happen to her, how long her career would last, if she did… she declares she would be fired that day and escorted from the building.  Both of these people know Jesus is not allowed in school.  Both of them seem to realize as they speak with Colin that their not being true to their faith while working in this environment.  Interestingly enough both of them quit their jobs within several months.
It was a this point that I turned to my husband and told him that I thank God that he moved on my heart to get me out of teaching 9 years ago at the birth of my son because after watching this I would have had to quit too.
There is more… so much more in this movie.  To get a taste you can watch clips on the Indoctrination website.  We hear from John Taylor Gatto who is considered a great leader in the homeschool and unschool movement.  He too is a former public school teacher.  Then there is this section on opting out of sex-ed in schools… can it really be done?  Also be sure to check out this timeline displaying the history of public school.
Final Thoughts
One wouldn't think so much could be crammed into 1 hour and 46 minutes but I've really on skimmed the surface.  Does this school bash passionate educators the way I had feared?  NO! It doesn't.  Not at all.  In fact I'd say that the movie tries to hold them in a higher esteem than the general public does.  However, if you are Christian and your children are in public school you will probably be rethinking that after viewing this film.
IndoctriNation can be purchased here for $19.95.