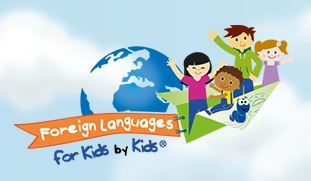 I'm a typical American.  I speak only one language… English.  That's it!  I was miserably failed my high school French classes and developed a nasty taste for learning a foreign language… ANY foreign language.  (True story… every time an opportunity to review a French program pops up I all but refuse to do it.  I'm sorry but no! NO FRENCH EVER AGAIN!) However, I certainly see the value in it and would truly love to have a real grasp of a second language myself.  How does one teach a child another language when the teacher does not speak the language herself at all?
I've reviewed a number of Spanish programs over the years and each have all had their pluses.  I actually really liked pretty much all of them for various reasons.  Each time we attempt a new program my children seem to retain just a bit more of the language.  That is awesome!  This time I was given the opportunity to review  the Starter Set 1 from Foreign Languages for Kids by Kids .
The name itself struck me… Foreign Languages for Kids by Kids.  So you mean to say in this program there will be children teaching my children how to speak Spanish? The answer is pretty much.. YES! This program is a lot of fun and it uses a more immersive style to teach Spanish in every day life situations.  It is best compared to how we all learn language as infants and toddlers.  We watch and listen to the world around us and then we try it!
How fantastic! Instead of beginning with colors or a list of objects or places you begin with words that you can wake up the next morning and begin to use as you move about your day.  And that is exactly what I encouraged my children to do.  The videos bring about an immersion experience paired with the visual element and the children and I really seem to retain what we've learned. (Yes I'm including myself in this too) Let me back up and explain to you exactly how all of this works.
Starter Set 1 includes:
A 20 Week Curriculum Guide
DVD 1 with 3 different videos
3 Workbooks that go along with each video
Sticker Set for Basketballs Aren't for Breakfast
Flashcard Set
The Game "Go Squish"
I began this programming by reading through the curriculum guide so that I could get a good handle on what we were diving into. Then we all sat down together and watched the very first video called… "Basketballs Aren't for Breakfast".  Just the title alone grabbed my children's attention.  They felt at ease since surly this was going to be fun!
The first video introduces us to trio of boys (that we assume are brothers), all speaking in Spanish. You can view a sample of the video RIGHT HERE.   It is morning and they are entering the kitchen and down to breakfast.  They talk about what they are eating.  We get a sense of what they like.  (One child loves to eat a lot, another child loves books, and a 3rd child loves basketball).  Through their interactions we learn the names of some common foods and objects.  The whole thing is funny and very entertaining.  The video goes by quickly and the kids would always beg to watch it again.  The end of the video features a review section for all of the Spanish words that were covered.
We watched that Basketballs aren't for breakfast video more times than I can count.  My children found it hilarious to use every word they learned as often as possible.  Every food they ate for about two weeks was labeled as either me gusta or no me gusta. (I like it or I don't like it).
We worked through the lessons as they are laid out in the curriculum guide.  I used that guide to help us review the vocabulary frequently since it is all listed in there.  We worked through some of the activities listed in there as well.  It is all so well planned out and easy to follow.  I loved how my boys (ages 10 and 8) could work through the activities at their level but my six year old, who isn't quite ready for any sort of Spanish writing could still fully participate with the videos and learn just as much as her brothers.  Did I mention the 2 year old seems to have picked up a word or two along the way as well?
Included is a sticker set of word labels to be placed around the house on appropriate objects.  Call me mean mom but I limited where those could go.  Perhaps it reminded me of my days as public school teacher where we used to do that sort of thing all of the time.  I had a classroom with labels on just about every darn thing!  I'm not a fan of doing that to my home.  However we did use them in our school room and on some toys.  Its a great idea and well executed but like my horrible French experience which scarred me for life I might still be suffering from the after affects of teaching in a traditional setting. HA!
We did finally move on to video two which is called The Little Magic House Part I.  We've watched that one many times as well. The difficulty of this video is kicked up a notch and we'll be paying close attention to it.  Here we get fully engaged in the whole male or female forms of words and the differences between formal and informal words.  But its just as much fun and my kiddos are just as excited for it as they were for video two.
This is such a fun program.  Certainly the most entertaining foreign language program we've ever tried.  Every member of my family is learning so much with it.  We are really excited to move forward with it and I anticipate buying the other levels as we complete Starter Set 1.