What a season of life I am in right now.  I am currently homeschooling two boys who would be considered 4th grade and 2nd according to their age.  I also have a preschooler and new baby.  What a juggling act!  How on earth do I make sure each every child gets what he or she needs emotionally, spiritually, and academically?  How do I make sure I get what I, the momma running this ship, needs physically and emotionally?  How do I care for my husband and my home? How do I care for my friendships and other relationships.  Ok, I just exhausted myself writing all of that.  I'm headed back to BED!  Just kidding!  That won't help much.  However, I was given this new ebook, written for mothers to review, by Kendra Fletcher who blogs at
Preschoolers and Peace
 titled 
Preschoolers and Peace: Homeschooling older kids with success while loving the little ones at your feet.  
God surely knew what He was doing when He sent this book my way!  What perfect timing don't you think?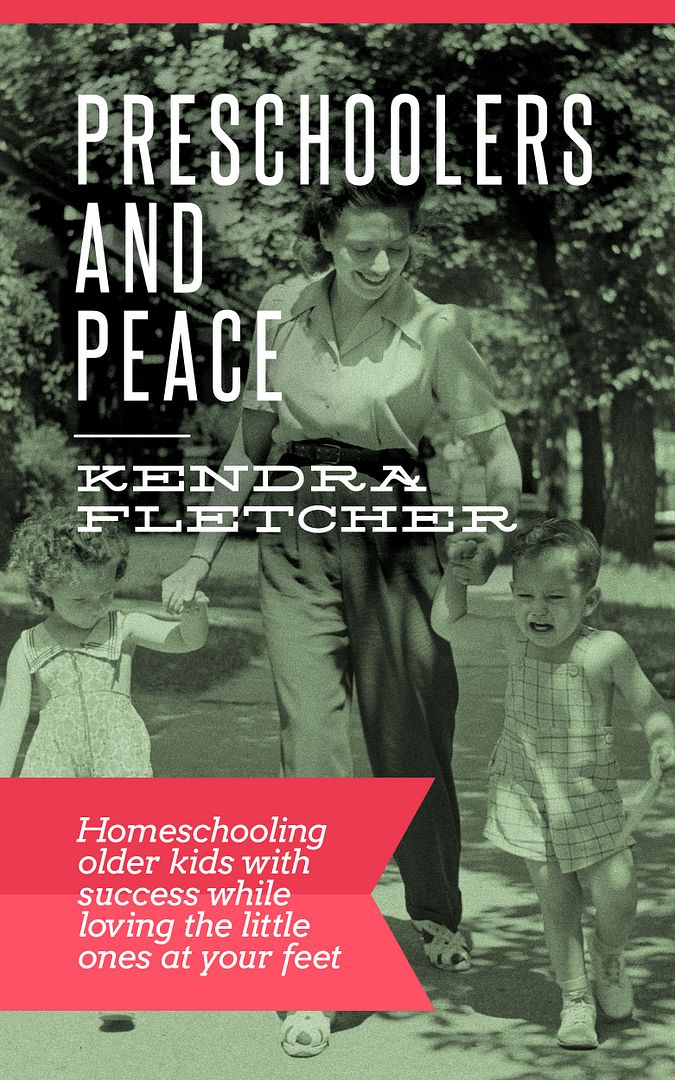 What a treasure this book is!  Truly! There is no denying it. I knew it would be!  Kendra is a homeschool veteran and mom of many!  She's spent 15 years homeschooling, pregnant, postpartum, and/or nursing baby. This lady has the wisdom I NEED right now!
In this 47 page ebook (isn't that sweet? 47 pages! I read this in a day over a couple of nursing sessions) Kendra brings you right back to the place we should all begin.  To that thing all Homeschooling Moms need… in prayer with God. The opening pages renewed my commitment to begin each day laying it all out with God and asking Him to guide my every step.  I know I can't run this crazy life without him and our days go so better when I start sitting at the feet of the one who truly knows all.
A few other chapters really jumped out at me. I really appreciated the chapter on Planning Around Preschoolers. She and I think alike as we both believe in getting kids into good habits that not only make our days run smoothly, but hopefully they will take with them one day when the fly the nest.  Getting our days off to the right start, first with prayer and then with good habits, truly sets the tone for the day.
Even in this section where Kendra talks about creating schedules she takes it back to where we really need to be.  The very first step? Pray and ask God for direction.  I don't do that the way I should.  I admit, I'm guilty of creating a grand plan and asking God to bless it instead of ask Him what His plans are.  I'm always more successful when I ask Him first.
Kendra also reminds us to ask our husbands for their input.  After all, they should be involved where they can be too.  Other points include writing down what needs to be done, determining what can be done with toddlers about, brainstorming how to keep the little ones busy, and using your schedule as a tool that serves you.  I love that she even lays out a sample schedule for you so that can start gaining some sort of vision for where to start!
Another chapter that I had to skip right too is titled… How Do I Get Any Preschooling Done?  Oh my word!  Trying to fit some great school time in with my preschooler is HARD!  I was dieing to learn how Kendra does it in her big family.  Her number one piece of advice… RELAX!
At the end of the ebook you'll find tips for meal planning, additional encouragement, and some great handy resources.  She includes some fantastic links to great places for more help.
This book is just $2.99!  I encourage you to download a copy for yourself today!  Just visit her website…
Preschoolers and Peace: Homeschooling older kids with success while loving the little ones at your feet


You can find more Preschoolers and piece at the following social media sites: