Aren't Easter Egg Hunt's fun?  Are you looking to go all out with your family this year?  Maybe you are struggling to find a way to make sure Jesus is the focus of your Easter?  I think I've got an idea for you.  My family recently had the opportunity to review Glow in the Dark Egglo Eggs by Egglo Entertainment.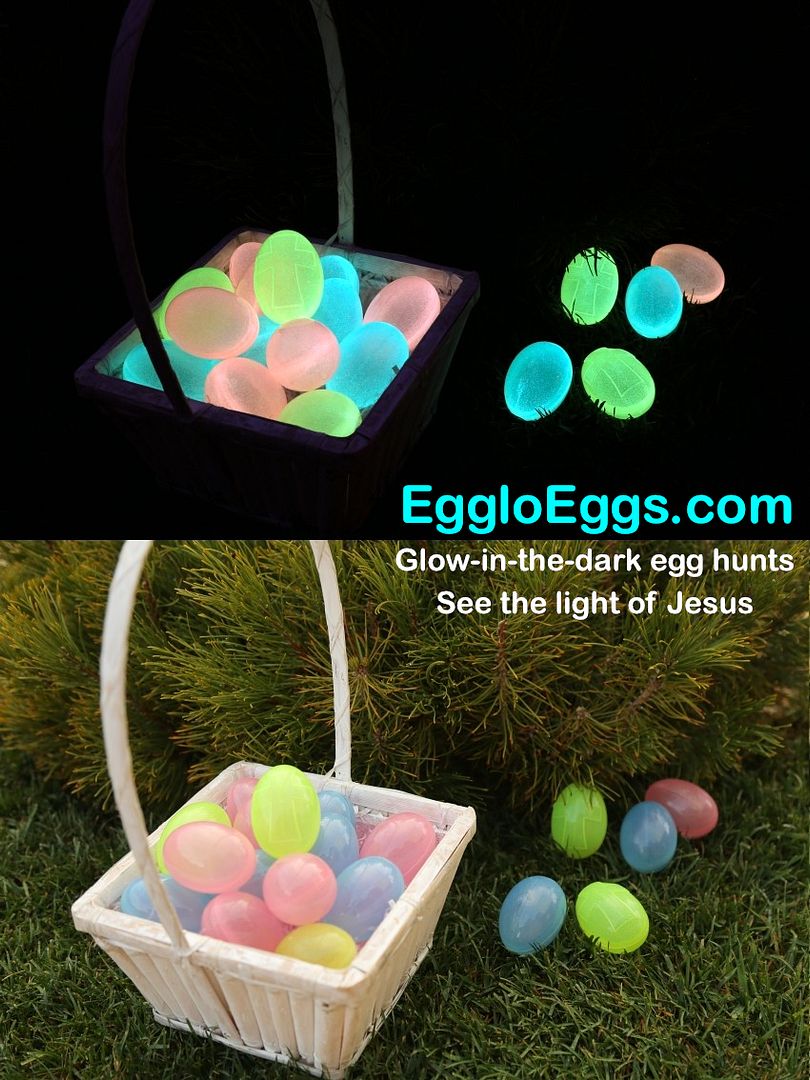 Egglo Entertainment isn't just about glow in the dark eggs.  They off an entire program that'll help you keep the real meaning of Easter front and center this Easter.  For this review we were blessed with:
The ideal age range for these products is 4-13. My 3 children range are currently 8, 6, and 3 years old.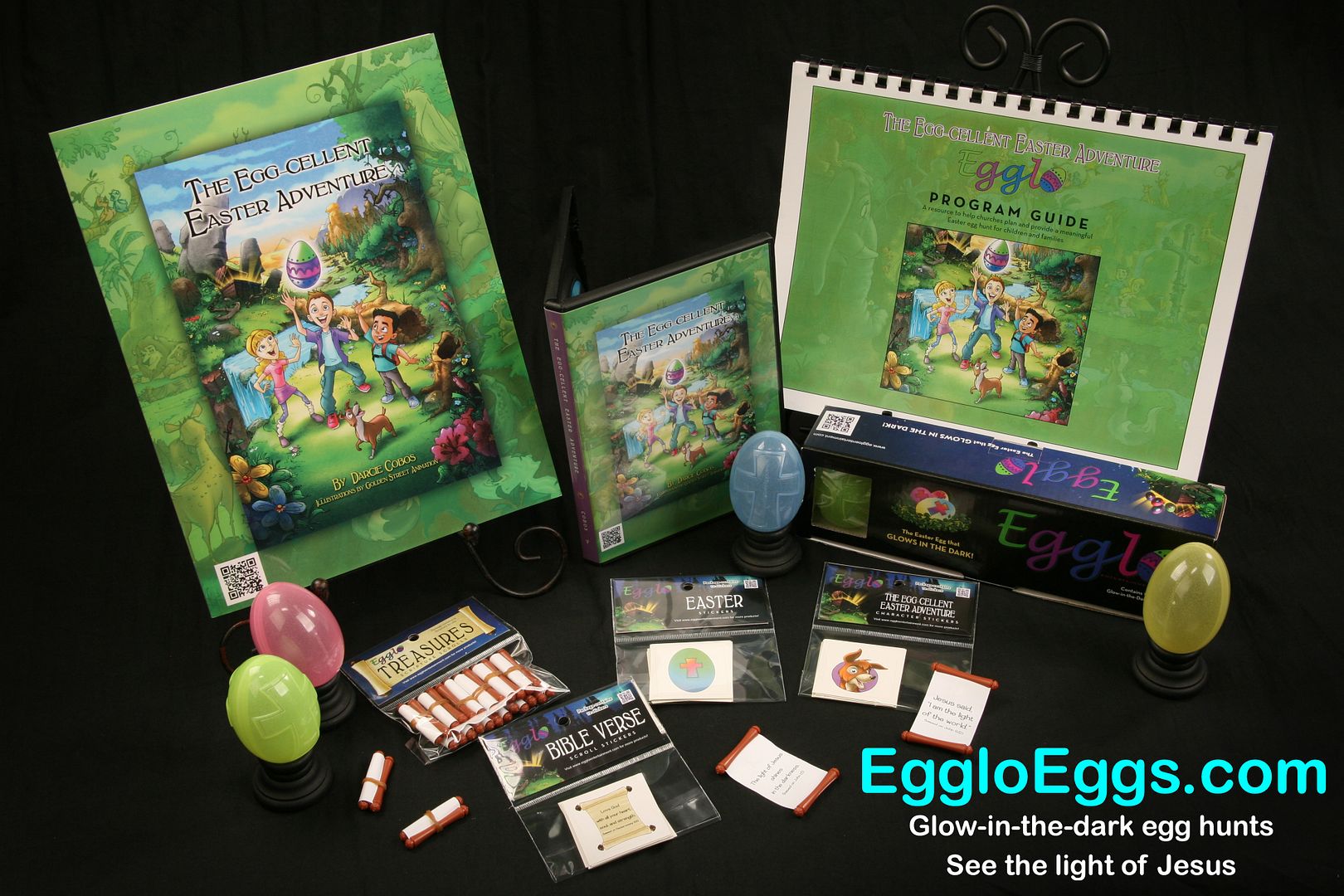 The eggs themselves come as a set of 12 in a great cardboard storage box.  Like most things that glow in the dark they do need to spend some time in the sunlight in order to charge up and glow.  We set them out in a window ledge for most of the day.
The eggs are of good quality. They come in nice pastel colors.  Some have crosses on them.  My children loved playing with them and they held up well to little hands opening and closing them often. They glowed fairly well.  I wasn't overwhelmed by their brightness but it was good enough.  I took the photo below with a very slow shutter speed in an nearly pitch black room.
The Egg-cellent Easter Adventure
 book is a great book for children.  It is of high quality with a sturdy cover and pages.  The illustrations are well done and engaging.  The story is about two cousins who find a magnificent Easter egg in an attic.  The egg transports them on an adventurous treasure hunt.  Throughout the books they use scripture and clues in scrolls to help them along to the next destination.  Included are character lessons that lead to great topics of discussion for you and your children.  The journey ends at the foot of the cross.
All of my children adored this book.  It became the sought after book for our reading time.  Each of my boys reread it countless times.  Joyanna, my 3 year old, would flip through the pages again and again.  She event talked her brothers into reading it to her a few times.  There is quite a bit of text in this book and I do feel it'd keep the attention of even older children.
In our family we are tremendous fans of audiobooks.  We were delighted to receive access to The Egg-cellent Easter Adventure (book audio download). The voice narrating the story is comfortable to listen too and easy to follow with the pages of the book.  He's fun and entertaining adding a great deal of depth to the story.  One listen will take about 30 minutes of your time.
The program guide is a fabulous resource and a must have! Inside the pages you'll find snack ideas, game ideas, questions for the Egg-cellent Adventure book, print-outs to decorate your church or home and some fantastic coloring pages.  If you decide to hold a hunt with your church you'll be delighted to find posters and invitations ready for printing.
Our family enjoyed the coloring pages.  We even cut several eggs and tied them with string to add a festive feel to our egg hunt.
Speaking of egg hunt!  It was a great thrill! Wandering around the house in the dark using our eyes to hunt for glowing eggs was such a fun and unusual treat!  They even got to stay up a little later than normal in order to have the hunt.  How fun is that!?! We filled each egg with one of the  Egglo Treasures Scripture Scrolls.  After all of the eggs were found we sat together and read each of the scriptures from the scripture scrolls. Then we discussed how these scriptures show us that Jesus is the true light of the world.
We really enjoyed our time with the Egglo Eggs and the Egg-cellent Easter Adventure book.  These were fantastic tools for driving home the good news of Jesus and our hope and light in the world. I'm going to box up these supplies and make sure we keep them safe.  I'd like to use them again every year as a new tradition in our home.
If you'd like to learn more about Egglo Entertainment you can visit their website or find them on their various social media websites.
Pinterest 
Facebook
Twitter
Instagram
YouTube
Google +